Q&A with Teacher Donna Kendall
Too Sexy for My Feathers

 
by Donna Kendall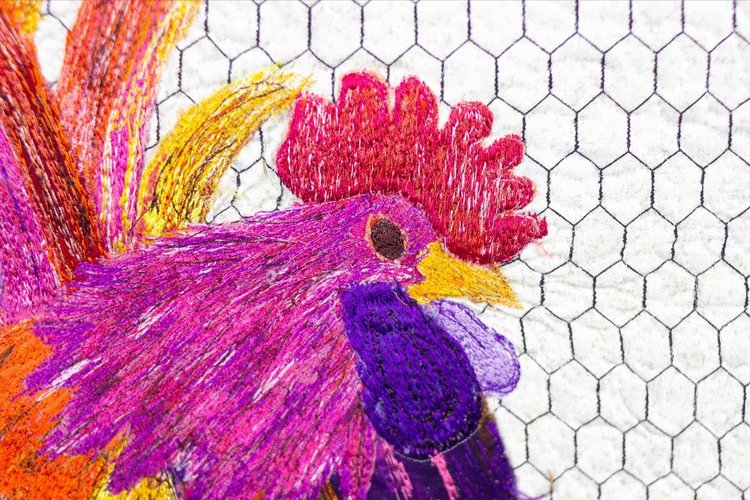 DONNA KENDALL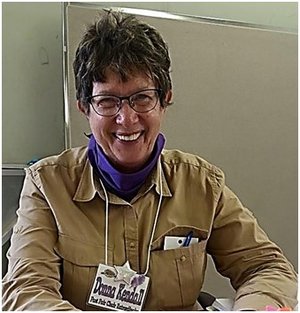 Donna is a special community minded individual, who relentlessly volunteers her talents and positive energy to make her community a better place. Her many attributes include: incredible sense of humor, persistence in completing a truly unique and stunning design, free motion quilting speed, abilities to create a masterpiece from any assorted fabrics, and sharing knowledge about fabrics &  threads. Donna believes that your best work comes from errors, and fixing them.  Ignore the quilt police. Quilt police are merely people who do not think and act outside the box. Donna's inspiration comes from working out problems in her head - whether it is just an idea or  work related and/or grief and loss.  The quilt becomes a sort of sideline and just happens in the process. 
When designing quilt pieces, her major assistant was a German Shepherd/Malmute dog - Jessie.  She was a true born designer.  Donna's design wall was downstairs - a place she rarely frequented.  However, if there was something wrong with a quilt design, Jessie walked by the design wall, several times, wagging her tail fiercely and knocking the pieces on the floor.  Needless to say, many were redesigned - and much improved.  This dog has been truly missed.  Her replacement, Pheebee - much smaller - was a professional quilt dog.  If she saw a quilt she liked, she claimed it as hers. 
Donna says her goal is to use up all the fabric she has!


Q&A INTERVIEW


Q: You do a lot of thread work, from thread painting to hand stitching. What started your love affair with thread?
A: String.  When I was a small child, I loved string and would travel with my dad to all his places where the guys saved balls of string for me.  My 93 year old father still has one of these balls - he has saved it in his shop.
Q: You teach a Thread Boot Camp. Tell me a little about what you do there.
A:  I teach people how to use all of the threads in their machines.  It is a fun filled day and everyone learns to turn the dials and play with needles and tensions and get a basic understanding of thread.  We have students come back two or three times (repeat offenders) and finally get the grasp of it all and away they go.  Some even grasp it all the first time.  The more they play in a group, the more they explore on their own.
Q: Are you surprised about how much or how little your students know about thread?
A: No I am not surprised.  You can walk into just about any store and ask about thread and they know a bunch of talking points...  mostly noise...  very little useful information about what to do when it breaks, twists, annoys you.  If the stores do not know - there is nowhere else to learn.
Q: What is your favorite technique to teach?
A:   I like to teach students that their machines will not blow up if they  turn the dials or adjust the tension or break a needle.  I teach them to breathe and to think.
Q: What are you favorite WonderFil Threads?
A:    Tutti, Mirage, Hologram, GlaMore, Sue Spargo's threads, InvisaFil  AND  DECOBOB.  DecoBob is my go to work horse.  The rest are all my Sunday horses.

Oh Sue - Look What You Started
 Hand Stitched by Donna Kendall